"What a crazy time to be alive!"
I've found myself saying that at least once a day for the last 2 weeks. The economy is in turmoil, almost everyone I know has been personally impacted in some way. People are having to get creative to keep the bills paid and many businesses are having to take a crash course on going remote.
Since we opened our doors in 2018, we've helped match our clients with the right software to help them operate more efficiently, and we've built close relationships with many software providers. We've decided that this crazy time should not be about profits – it should be about helping our neighbors, friends, and colleagues survive this time. We've decided to double down on providing software and services that can help businesses go remote – quick!
During this time, we've created a new service line called Going Remote, and we're charging half price rates to help businesses get set up for remote work.
Without further ado, here's a list of our favorite tools that will help your business go remote!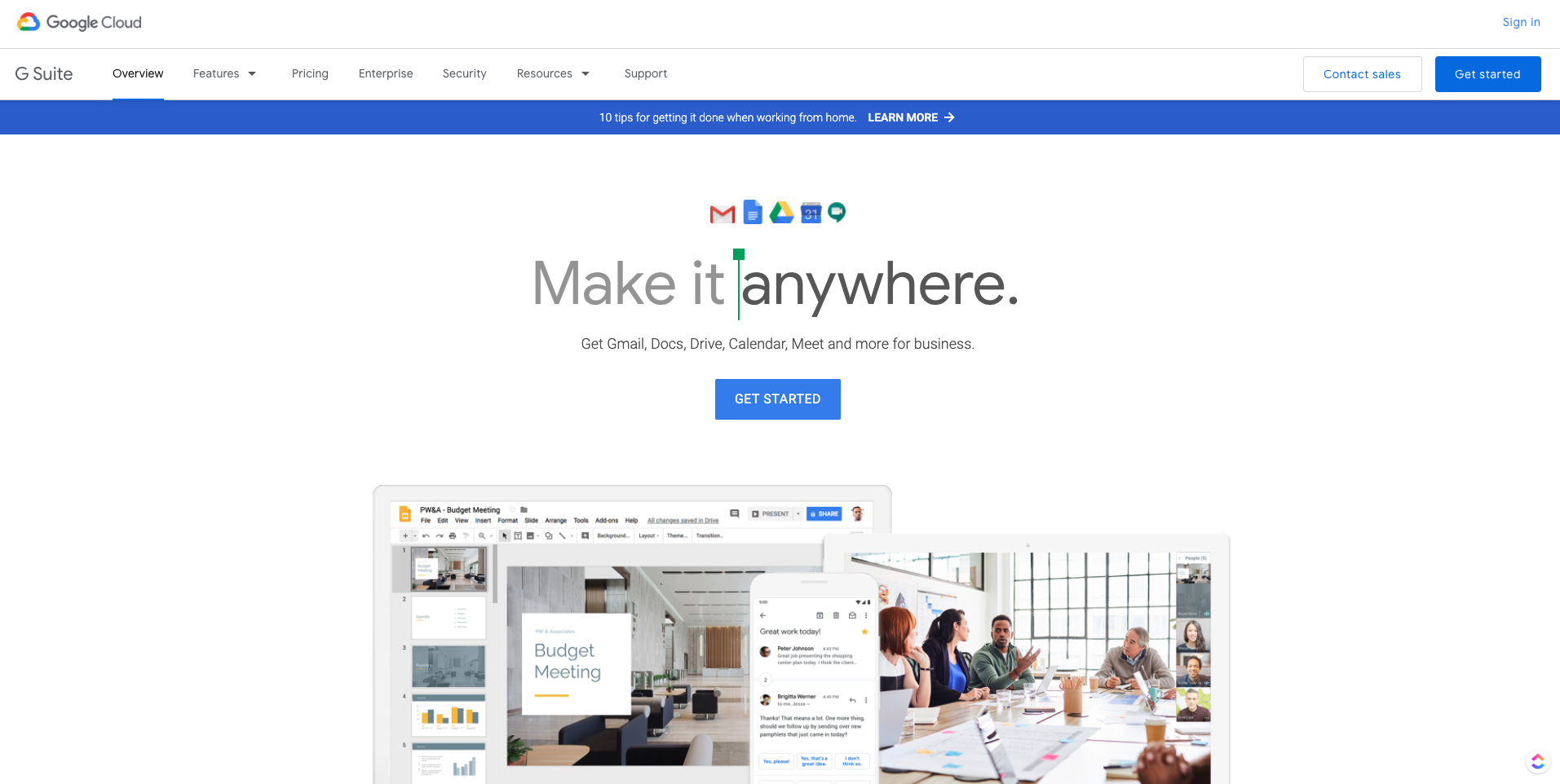 We could write an entire article on G Suite and why we love it. G Suite is an all-in-one business productivity and collaboration suite of tools. It includes Gmail, Google Docs, Google Drive, Google Calendar, Google Hangouts and a lot more for $6/user per month.
Gmail is probably the most reliable and popular email service out there, and it's worth the price tag all by itself. Since a lot of communication is moving away from in-person meetings, it's important to ensure that your customers know that they're dealing with you – not someone pretending to be you. Anybody can set up a bobbysgym@gmail.com account, but only someone who owns the domain bobbysgym.com can set up a bobby@bobbysgym.com email account, and people tend to trust that.
Google Drive is a productivity and storage tool that gives you 30 GB of file storage, and it comes with Google Docs, Google Sheets, Google Slides, and more – the Google equivalent of Microsoft Office. You can collaborate in real time, meaning if I send you a document, you can just comment and edit it in real-time. That means you can kiss all of your 'paper-final_final-final3.docx' files goodbye.
In the same way that Gmail is the standard for email, Google Calendar is the standard for a calendar app. It's very flexible and teammate sharing is built right in, which makes finding a time to meet very simple.
Google Hangouts is Google's online communication tool, and it includes both Hangouts Chat and Hangouts Meet. It's important not to lose the personal connection even though you're working remote, and Hangouts Meet is a great way to keep that face-to-face interaction even when you're social distancing.
Hangouts Meet is great for both 1-1 meetings and large video conference calls. In fact, Google just announced that through July 1, 2020, any G Suite customer is getting access to extra Hangouts Meet features, including conference rooms that can handle up to 250 people.
We're official G Suite resellers, and our typical price is the same as Google's, just $6/user/month. As resellers, we make a margin on the monthly fee so we're able to provide setup and maintenance to you for the same cost as if you were to buy from Google directly. If you're thinking about making the switch, we'll set it up for you and defer the $6/user/month fee until July. Can't beat that.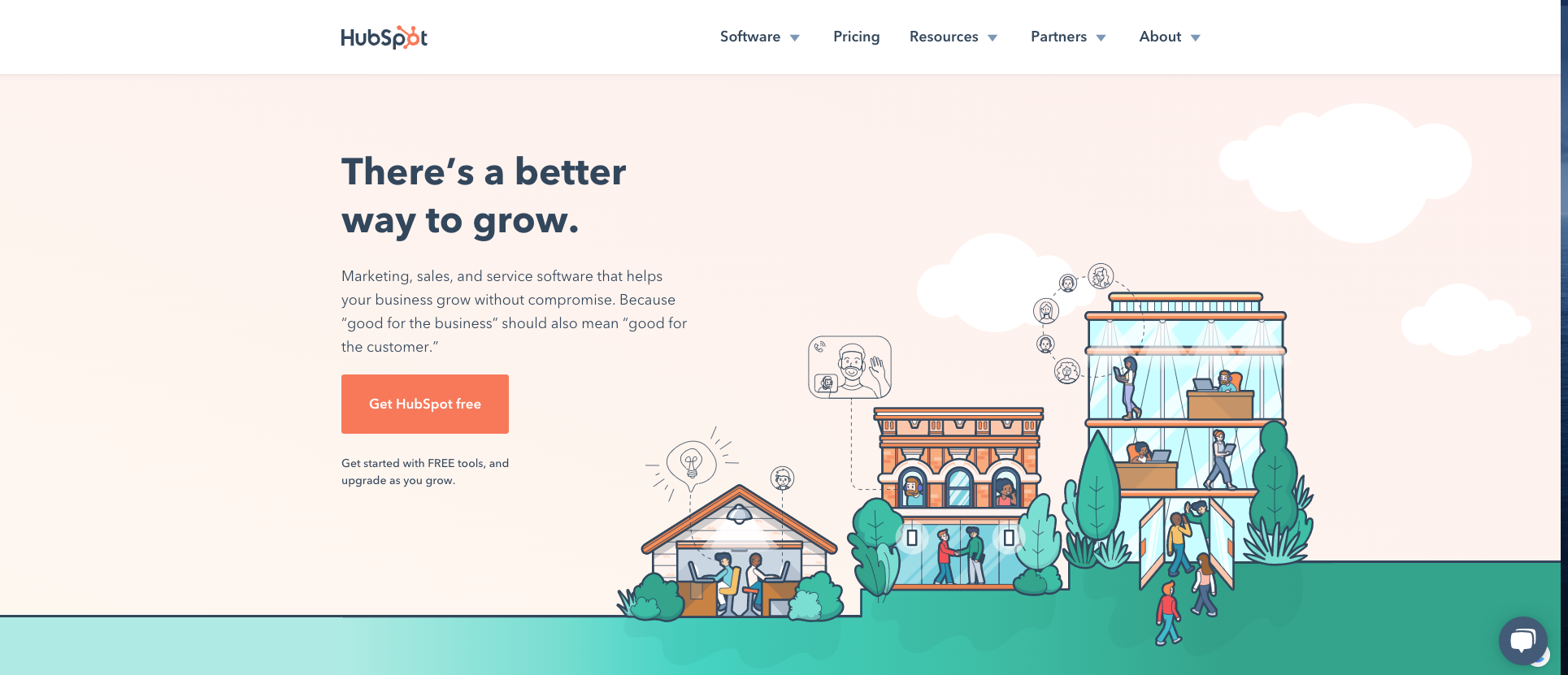 I talk to a lot of customers that are using a combination of sticky notes and a prayer to keep their contacts organized. During the best of times, that's hard enough to manage as a sales rep and even harder to manage as a manager. For people looking for a better way to organize their contacts and track communication with them, there is no better solution that HubSpot.
HubSpot is an all-in-one software for managing all your client relationships. They offer a free CRM (Customer Relationship Manager), as well as free marketing and sales tools. If you're just trying to ease into an online contact database, they're a great place to start for free, and if you're an advanced user, they offer marketing, sales, and customer service automation tools to help you work smarter and more efficiently.
Here are a few of my favorite free HubSpot's tools.
Totally free CRM. HubSpot's CRM is full-featured and it's one of the best CRMs on the market. You can keep all of your details about all of your contacts in one place. HubSpot even integrates with Outlook and G Suite so that all of your emails are logged, which cuts down on data entry. As your contacts show interest in buying from you, you can create deals in your deal pipeline and show revenue projections based on what stage each deal is in. As your contacts ask questions, you can create tickets to ensure that each ticket is answered in a timely manner. All of your communication, projects, customer support requests and more are easily logged in one place, so you don't have to ask anyone if they sent an email to a prospect.
Templates & Snippets. Do you send the same email over and over? HubSpot integrates with Gmail and Outlook and they increase the efficiency of those tools by adding templates and snippets that let you quickly add paragraphs (a snippit) or entire emails (a template) to your draft, shaving off loads of time.
Meetings Link. Everyone in your organization receives a free meeting link, so people can book time on your calendar. When people click on your link, they'll see all the time slots that you're available and they can book time with you by filling out a couple of fields. You can also set up rules to ensure you have plenty of time to respond to requests – for instance, when you book time on my calendar, the earliest slot you can choose is tomorrow morning, and every item on my calendar must have a 1 hour buffer. This saves tons of time on all the back and forth that it normally takes to book a meeting, "Does Tuesday work? What about Wednesday? Mornings or afternoons?". Kiss all of that goodbye.
Live Chat and Conversations Inbox. Your customers can reach out to you in a lot of ways: Facebook Messenger, forms on your website, live chat, email, and the list goes on. With HubSpot's Conversations Inbox, you can take all of this communication and put it in one place, assign it to other members of your team, and comment internally to ensure that you're doing the best job to meet the need of your customers.
Email Marketing. On HubSpot's free plan, you can send up to 2,000 marketing emails for free. They have a very legit email editor that makes it a joy to build emails, and you can do a lot of damage with 2,000 emails per month. If you need more than that, you can upgrade for as little as $50/month.
Wondering if you should still be marketing during the coronavirus? The answer is, probably so, but it depends. Learn more here.
HubSpot is great because it lets you take all of the fragments of your communication with customers and it puts them in one place. This is especially important as you move remote, and information becomes even more spread out.
We're HubSpot partners, so if you're interested in learning more or getting started with them, we're happy to hold your hand through the process. We have an onboarding process where we'll do the setup for you, and we also have a lot of online resources if you'd rather do it yourself.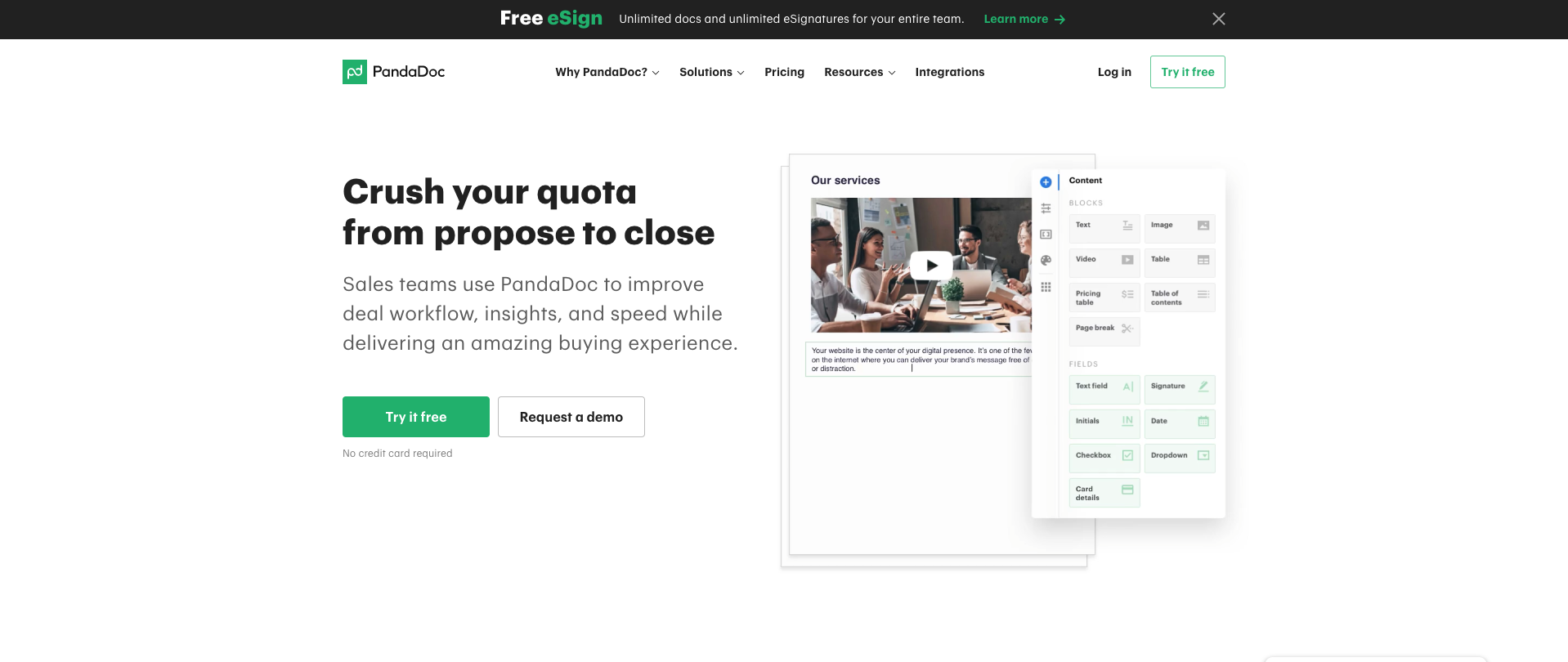 Creating documents is normally a real pain. From quotes and payments, to contracts and signatures, the only thing worse than creating documents is signing and countersigning them. PandaDoc is an oasis in this space, making it really easy to create beautiful documents with dynamic content, embedded videos and pictures, and spots for signatures.
With PandaDoc, you can use templates along with a content library to make creating documents a breeze. When it comes time to collect signatures, you can send the document to as many parties as you need to, easily collect dates, signatures, and other information and store the signed, final document in the cloud.
One of my favorite things about PandaDoc is that integrates with lots of other tools, like HubSpot. That means you can pull information from just about anywhere to use in creating your document.
Their pricing is affordable, too. They just launched a free version, where you can upload .pdfs and send them to others to collect collect their e-signature (a must if you and your client are both quarantined).
If you want to use PandaDoc to create your documents (rather than just handle the e-signing), you can get started for as little as $9/month. We're a PandaDoc partner, so talk with us if you'd like to learn more and we'd be happy to help you decide if this is the right solution for you.
ClickUp is the new kid on the project management block, and they have really impressed me. Most project management software is either way too simple (looking at you, Basecamp) or way too complex (take that, Jira). ClickUp manages to walk the line between being flexible and being feature-rich, and I think they've really nailed it.
You organize all your major projects into Spaces, and then you can create different lists of tasks. Each task can be viewed in different ways, say a Kanban board, Calandar, Gantt Chart, and more.
In addition, you can create full documents and chat rooms to meet a number of different needs. You can privately or publicly share just about anything with just about anybody.
They have a lot of other features, like Goals, Dashboards, Forms, and a really powerful inbox that shows you what you need to be working on to keep everything afloat. You can even embed other web pages in a view – for instance, a Google Sheet that you can work on directly in ClickUp.
Every week, they roll out new features, so every Friday feels a little bit like Christmas.
The pricing is affordable, too. They have a generous free tier, but if you upgrade you can access to additional views, unlimited storage, and more. I think we pay $9/user/month, and I'm tickled to pay them every month.
One of the biggest pain points for small businesses right now is that they aren't at the office, so when the office phone rings – nobody answers! This is a huge problem for a lot of reasons, and fortunately, one that can be easily fixed using a cloud phone system.
Over the last couple of months, I've looked at a bunch of cloud phone systems, and my favorite by far is Aircall. With Aircall, you can buy phone numbers and then manage both your incoming and outgoing calls using a really easy interface. So, for instance, if someone calls my number and I don't answer, I can forward it to someone else in my organization or even a group of people. I can take information on the front end ("For Sales, press 1") and then send the call to the correct person based on their input.
Aircall has a desktop app and mobile app so you can answer calls anywhere, at the office or at home in self-quarantine. You don't even need to buy expensive phones, although I do recommend a good headset for when you're calling from your browser.
They have a really cool desktop browser extension, too. Whenever it detects a phone number on a page, it activates Aircall and you can click to call just by clicking the number. Saves a lot of time and removes the chance of a typo.
Over the last month or so, we've moved our entire team to Aircall and so far, we love it.
One other note: Aircall integrates with a bunch of CRMs like HubSpot, so recordings of all of your phone calls are logged directly in your CRM. That means no more data entry.
Aircall's pricing starts at $40/user/month, which might seem expensive at first glance. But, when you think about the cost that you're probably already paying to a Comcast or AT&T, it's normally a wash – I've even had clients save money by switching to Aircall.
We're an Aircall partner, so we can help you get set up quickly.
If you've ever wished you could text from your office phone, you're going to love Sakari. What I love about Sakari is that it integrates with Aircall, so you can text people from your Aircall phone number. Texts are a really important way to cut through the noise for important announcements, and many companies don't text because they would either have to give out their personal number, or because they can't figure out how to keep it consistent with the rest of their communications.
Sakari solves all of this by keeping the phone numbers you text from synced up with the phone numbers you call from. It also integrates with popular CRM systems like HubSpot, so you can text from your CRM and log that information alongside other communication like email and phone calls. Very very cool.
I like Sakari's pricing model because it's pay as you go, and they charge a fraction of a cent per text. If you choose, you can also buy credits up front for a discount.
Other Tools we use
For conference calls where I want to screen share, I rely on Uber Conference.
A lot of folks use Slack for internal communication. I prefer to keep my internal communication organized around a project so I prefer using ClickUp for that, but I know I'm in the minority there.
If you're having video conference calls a lot or have complex video conferencing needs, Zoom is a great alternative that many companies. It has a few extra features that Google Hangouts doesn't have, like polling and white-boarding during the meeting.
I hope this list has been helpful. As you may have noticed, we're partners for most of these companies, so if you'd like to learn more or need help getting set up, please let us know. Oh, and don't forget, we're running free consultations and half-price on our hourly rate to help businesses move to remote work.