Digital Marketing is complicated and you're busy.
Partner with a

Top Inbound Marketing Agency


to cut the noise and achieve real growth.
Is this the kind of business growth you're looking for?

2.1x more visitors per month within one year
2.5x more leads per month within one year
70% of customers saw an increase in lead to customer conversion rate
WE WORK WITH THE BEST in Digital Marketing
It's past time to hire an Inbound Marketing Agency.
The way that your customers buy has changed, and you must change with it. Doing what's right for you means doing what's right for the customer and your role as a marketer must keep up.
You must be helpful, you must remove the friction that keeps your customers from buying, and you must get all of your technology systems to work in unison to provide an excellent customer experience. There's a long way to go, and we'll help you get there.
DOUBLE YOUR SALES

DISCOVERY MEETING
No obligation. No hassle. Our goal is to help one dozen businesses double their sales within the next year. Think you're a good fit? Let's talk.
What is Inbound Marketing?
Inbound is a methodology that puts your customers at the center of all your business operations. It rallies your marketing team, sales team, and customer service team around being helpful and supporting your prospects as they move through the customer journey. Working with an Inbound Marketing agency, you can quickly get your Inbound strategy planned and executed.
You grow when your customers succeed. 
Attract. Engage. Delight.
Any successful business has to do three things. 
1) They have to attract people that are likely to buy. 
2) They have to engage with those people in a way that is mutually beneficial. 
3) They have to delight those people – before and after their purchase. 
The Inbound Method gives you a scalable and predictable foundation to grow your business.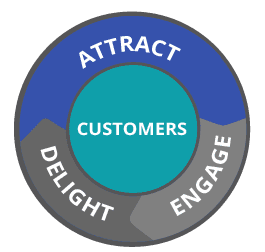 How to Attract the Right Prospects
Use a mixture of content marketing, SEO, social media, and email marketing, you can attract people likely to buy your  product or service. Once they reach your site, you must have a plan in place for turning those strangers into leads and nurturing until they are ready to handoff to a sales person.
Focus on providing value every step of the way. 
How to Engage Meaningfully with your Leads
When a lead starts displaying buying signals, it's important to engage with the in the right way – by providing value and consulting, rather than hard-selling. It starts by having good data, a feedback loop between marketing and sales, and a repeatable and scalable sales process that every sales agent can follow. 
When you create a sales process for your team that is focused on consulting and providing value, you can grow and scale your sales team with ease. 
How to Delight Your Customers
It's not enough to just make the sale – you should strive to deliver a delightful customer experience throughout the entire customer journey. When you make it really easy for your customers to provide feedback, look up information, and troubleshoot issues, you're taking your customer service to the next level. As an added bonus, you're decreasing the burden on your customer support team. 
The happiest customers are the most likely people to refer business to you, so delight your customers so that they'll fill your pipeline for you.
How we help our clients succeed
Want to achieve predictable and scalable growth? Of course you do. Here's the marketing process we run to help our clients double their sales.
Before we start doing any work together, we need to get the basics right. We'll start by taking the Inbound Method and using it to build out the following: 
Your Buyer Persona: Who You Are Selling To
We'll help you hone in on who your ideal client is and how to find them, engage with prospects through the buying process and delight them as they grow with you over time.
Your Buyer's Journey: How You Are Selling To Them
We use a framework called the Customer Value Journey to help break through the bottlenecks that are slowing your growth. We'll create a plan that gets you in front of the right audience, engages with them meaningfully, builds your subscriber list, creates an enticing first offer, builds excitement around your brand, cross-sells and up-sells your services, encourages your happiest customers to leave reviews around the internet, and launches an official advocacy program for your company.
Your Main Metrics: How to Know If You're Successful
Early on, we'll settle on a set of metrics that will help us determine if we are hitting our growth goals. These will be our "true north" and will represent levers that we will pull to achieve growth.
The Result: Your Customized Growth Plan
At the end of this process, you'll have a strategy to lead your ideal customers through the Attract Stage by creating Awareness, Adding Value, Generating Leads and Nurturing those Leads. 
You'll have a strategy for getting exciting those leads about your brand, and cross-selling, up-selling, and re-selling your products and services to them. 
You'll have a strategy for handling customer issues in a delightful way, creating promoters and brand advocates automatically. 
The best part? We'll help you establish systems and processes that automate much of the busy work, so that your system is selling all day, every day – even while you sleep.
Ready to Build Out Your Customized Plan and Double Your Revenue?
So you have a plan.


Now What?
Either take the strategy we've created and execute it on your own, work with us as consultants to ensure you stay pointed in the right direction, or purchase one of our Packages and we'll execute the plan for you. 
The

Inbound Marketing

Engine
These are the tools and tactics that will attract the right people to your business, capture their information, and nurture them toward a buying decision. 
Marketing Automation
We'll work with you to provide 1-1 marketing at scale - that means each of your prospects will receive the right message at the right time. By pulling data from your CRM, your ad accounts, and your website analytics, we'll create full profiles and a custom marketing plan for each prospect.
Content Marketing
Content Marketing is a core part of Inbound Marketing. How do you engage with your prospects? With content, of course. We'll help pull information out of your head and turn it into easily digestible blog articles, social posts, ebooks, videos and more to help create value for your prospects and build yourselves up as thought leaders.
Social Media Management
It's important to be consistent with your social media publishing, and to be present in the conversations that your prospects are already having around your brand. We can help you develop a social media strategy, and if you need help writing content, we can even manage your entire social media calendar for you.
Lead Generation
Once you have traffic on your site, we'll help you convert that those people into leads. We'll help you come up with and design great offers that your visitors will want to download, and we'll utilize the best digital marketing tools to succeed. When you utilize a combination of popup forms, landing pages, funnels and emails, you will see a substantial growth in your conversion rate.
Email Marketing
Once you have traffic on your site, we'll help you convert that those people into leads. We'll help you come up with and design great offers that your visitors will want to download, and we'll utilize the best digital marketing tools to succeed. When you utilize a combination of popup forms, landing pages, funnels and emails, you will see a substantial growth in your conversion rate.
Content Offer Creation
It's important to invest in creating high-value content that your prospects would happily hand over their contact information to you in order to receive it. These could include ebooks, white papers, videos, templates, or just about anything else that you can imagine. We'll help you make sure that you have regularly produced, highly polished, rich-in-value content offers to help your lead generation and lead nurturing efforts.
Website Design
A high-converting website is crucial to a successful inbound marketing strategy. If your current design isn't turning visitors into leads or leads into clients, then it's time to look at redesigning your website. We make web design easy, offer optional monthly payments, and constantly iterate on your site to improve its performance.
Search Engine Optimization
While you can always pay for traffic, it's also important to focus on increasing organic traffic to your website. We'll help you write content that is great for humans AND helps you reach the top of search engine results pages. There are technical steps that need to happen "under the hood" of your website, content that should be optimized, and links on other sites that you should pursue. We'll help make sure that all of the content you're creating through your inbound marketing campaign is working the hardest it can to help you rank in the search results.
Digital Advertising
Your ideal clients are out there and we can help you get in front of them. We specialize in paid search and PPC and will help you optimize your Google, Youtube, Facebook, and Instagram ads to reduce wasted spend and increase your website traffic.
Lead Nurturing
We'll work with you to develop a strategy to introduce your new leads to your brand and gauge the quality of those leads. We'll set up lead scoring so that your sales team knows just how engaged each lead is with your brand - whether that's website visits, emails opened, time since last engagement, or anything else.
A/B Testing
Good digital marketers don't rest on they're laurels, and we won't either. By closely monitoring conversion rates, we'll run tests that give 2 visitors two different experiences. Once a test reaches statistical significance, we'll pause the loser and create a new version to try to make it even better. This is a slower process, but it's one of the more important tactics in our digital marketing toolbelt.
The

Sales Engagement

Engine
You know it's not enough to have leads. You need to have high-quality leads and you need to have a proven and repeatable sales process for closing deals. We'll help you get there.
Sales Process Audit
Every business has those couple of sales reps that consistently outperform the rest. We'll perform an audit to determine what they're doing and how they're doing it, and then build those best practices into a repeatable, scalable sales process that everyone on your team can easily implement. From the types and cadence of sending content, to scripts for phone conversations, we'll help you develop and maintain consistency across all your sales reps.
Marketing and Sales Handoff
It's not enough to get leads - you have to generate qualified leads. We'll create a process for determining of scoring a lead so that it becomes a marketing qualified lead, and we'll help you create a feedback loop so that your marketing team knows which leads are a good fit and which leads aren't. This helps everyone stay on the same page and empowers your marketing team to fully support your sales reps.
Sales Sequencing
Your sales reps send similar emails over and over and over again. We'll work with you to create a library of templates and snippets that every sales rep will have access to, cutting down on the amount of time spent answering questions. We'll queue up emails so that if they don't respond to the first email, a second (third, fourth, fifth) email goes out or a task is created. This ensures your prospects don't slip through the cracks.
CRM Maintenance
You keep all of your client's data in a CRM, and that's great. But without regular upkeep, that data can become messy - duplicate contact records, stale deals, unanswered support tickets, and much more. We'll help you run some good hygiene on your CRM so that it's always filled with valuable, useful data. This will help your marketing team and your sales reps get more done efficiently.
ads into clients, then it's time to look at redesigning your website. We make web design easy, offer optional monthly payments, and constantly iterate on your site to improve its performance.
Sales Document Automation
Your sales reps should spend their time selling, not creating documents. We'll set you up with software that gives your marketing team control over the look and feel of the template, while cutting down the time it takes to create and send the document from hours to minutes. Fully loaded - e-signature, custom approval workflows, red-lining, and fully integrated into the rest of your digital marketing tech stack.
The

Customer Delight

Engine
It's not enough to just sell your products or services to your customers. You need to go an extra step further to ensure that they're happy and successful. Then, you need to activate your most successful clients so that they become active promoters of your brand.

We'll help you do it.
Customer Service Desk
Handle customer service requests with ease and get full visibility into how well your customer success team is performing. We'll help you set up service automations so that nothing falls through the cracks and your customers stay happy and profitable for your business.
Net Promoter Score (NPS) Surveys
Keep your pulse on how happy your customers are by sending out regular NPS surveys to your customers. This survey measures how likely customers are to refer your brand to their friends or colleagues, and it allows you to catch problems early and segment your happiest customers so that you can call on them later to leave reviews or promote your brand.
Self Serve Knowledge Base
Not every customer wants to reach out to your customer service team when they have a question - nor should they have to. We'll help you plan and create a self-serve knowledge base so that your customers can help themselves - quickly and efficiently. We'll also tie this into your chatbots so when they ask questions, it searches the knowledge base for answers before passing along to your team.
Advocacy Program
We'll help you structure and execute a customer advocacy program that rewards your customers for referring new business to you. We'll help you pick the right reward structure and promote the advocacy program to your happiest customers.
We don't want cost to get in the way of you becoming a marketing machine. We provide a simple pricing structure that sets you up for success. Each Package includes the following fully managed services: 
90 Day Growth Accelerator Included
Marketing Automation
Content Marketing
Search Engine Optimization
Social Media Management
Digital Advertising
Lead Generation
Lead Nurturing
Email Marketing
A/B Testing
Content Offer Creation
90 Day Growth Accelerator Included
Sales Process Audit
CRM Maintenance
Marketing & Sales Handoff
Sales Document Automation
Sales Sequencing
Case Study Creation
90 Day Growth Accelerator Included
Customer Service Desk
Self Serve Knowledge Base
Net Promoter Score Surveys
Advocacy Program
90 Day Growth Accelerator Included
Includes Everything in Inbound Marketing Engine
Includes Everything in Sales Enablement Engine
Includes Everything in Customer Delight Engine
90 Day Growth Accelerator
Our 90 Day Growth Accelerator program helps you get started on the right front. We'll develop your personas, build out the Customer Journey and lay the foundation for you to double your business.
*Included and required for any of our Monthly Packages.
Website Audit
Keyword Strategy
Technical SEO Implementation
Content Ideas
Monthly Reporting
Per Month (2 Year Contract) or $3500 Upfront
No large upfront fee
Custom Design
Built to Convert
Super Fast Hosting
Security & Plugin Updates
Unlimited Content Updates
Digital Advertising
Content Creation
HubSpot Maintenance/Campaigns
Graphic Design
Social Media Management
Strategic Planning & Consulting 
The First Step to Get Started is to Schedule Your Complimentary Double Your Sales Discovery Session
Not ready to take the leap?
We get it. It's a big investment. Here are some tools to help you get started on your own.
Some of our favorite Blog Posts
Learn the basics of creating your inbound strategy, defining your persona, and the tactics that you'll need to master to be successful.
Learn the main difference between traditional marketing and how Inbound deserves your focus over the coming year. 
Learn about 4 easy tactics you can implement today to start generating more leads on your website. 
Pour fuel on your content marketing strategy by using social media to promote your website and grow your lead list.
Looking to upgrade your
Technology Stack?
We partner with the best technology companies on the planet to help you execute your inbound marketing strategy.
We are a HubSpot Solutions Partner, a Digital Marketer Certified Partner, and we also partner with several top-tier technology companies to provide business email and collaboration tools, domain purchase and registration, document automation, cloud phone systems, systems integrations, and much much more.
Your processes and systems should run automatically, sending the right email, logging phone calls automatically, and moving your customers through your Buyer's Journey – saving you time and ensuring no deal slips through your fingers.
Your homepage (probably) sucks. And it's losing you a TON of sales. Join me, a bunch of other Digital Marketers, and Ryan Deiss (who wrote the book on Digital Marketing) in their next workshop, "Craft a High-Converting Landing Page". I'm really excited and I hope to see you there!
Why Work with an
Inbound Marketing Agency?
Digital Marketing is Becoming More
Important
Every year, more people turn to the internet to begin shopping – whether that's for a product, a service, a software, or anything else. If you don't have a plan to get in front of these shoppers and engage with them, you are leaving money on the table and your company will likely struggle unnecessarily in the future.
You can't afford to not have a Digital Marketing strategy.
Digital Marketing is Becoming More
Complicated
Facebook, Twitter, Instagram, Pinterest, TikTok, SEO, Websites, Microsites, Paid Search, Paid Social, Youtube, Display Ads, Retargeting, Content Marketing, Webinars, Pillar Pages, and the list goes on. 
Your company needs to take advantage of all of these channels – and you need to have a strategy for each one. 
The days of a business owner being able to manage all of their own marketing are over.
The industry is changing faster than the typical business owner can keep up with, and it's not a good use of your time to stay updated on the trends. 
Digital Marketing is Becoming More
Expensive
And we don't just mean that the cost of buying digital ads has gone up – even though it has. As more people migrate toward online ads, the cost does rise (supply and demand). But, more importantly, the staffing cost of someone who can manage your digital marketing campaigns has increased dramatically over the last few years. 
Consider this: the typical salary of a CMO is around $200,000 per year. A digital marketing specialist, someone a few years out of college, is around $70,000 per year. 
That means you'll increase your payroll expense by somewhere between $100,000 and $300,000 to run your marketing in house. And that assumes that your new hire has experience and mastery over the entire digital marketing skillset – graphic design, copywriting, SEO, paid advertising, web design & development, and more. 
Spoiler: one person is not going to possess all of these skills so you'll likely have to hire more than one person to keep everything in house.
How Does an Inbound Marketing Agency Help You Grow?
It's pretty simple. 
We'll work with you to understand your business, and your buyers. We'll map out your customer journey. We'll run the campaigns for you – and you can be as involved as much or as little as you'd like to be.
Then you get access to our entire team – writers, designers, web developers, strategic thinkers, and project managers. 
You're not our first client, so we won't be reinventing the wheel. We have a blueprint that we've been successful with, and our clients have been successful with. 
And you'll get all this for a fraction of the cost of doing it yourself. 
We think it's a better way, but don't take our word for it. See for yourself.
Ready to Take Your Marketing to the Next Level?
We'll send you DIY marketing tips and strategies you can begin using TODAY to grow your business.